USB DVI LCD Console with USB Peripheral Support
CL6700
The CL6700 DVI LCD Console is a LCD KVM console featuring an integrated 19" DVI LCD panel, a full keyboard, and a touch pad in a 1U rack-mountable sliding housing with audio support. The CL6700 serves as the front end sliding console for compatible DVI KVM switches. This means users who already have a compatible KVM switch can take advantage of the space saving and efficiency benefi ts of the sliding console module without having to purchase a KVM switch module.
For added convenience, a port for an external USB mouse is provided on the unit's front panel, while ports for an extra console (USB mouse, USB keyboard, DVI monitor and VGA monitor) for a second user are provided on the rear panel.

CL6700N: 19" LCD


Package Contents
1x CL6700 DVI LCD Console with Standard Rack Mount Kit
1x KVM Cable (DVI-D, USB, Audio; 1.8m/6ft)
1x Power Cord
1x Firmware Upgrade Cable
1x User Instructions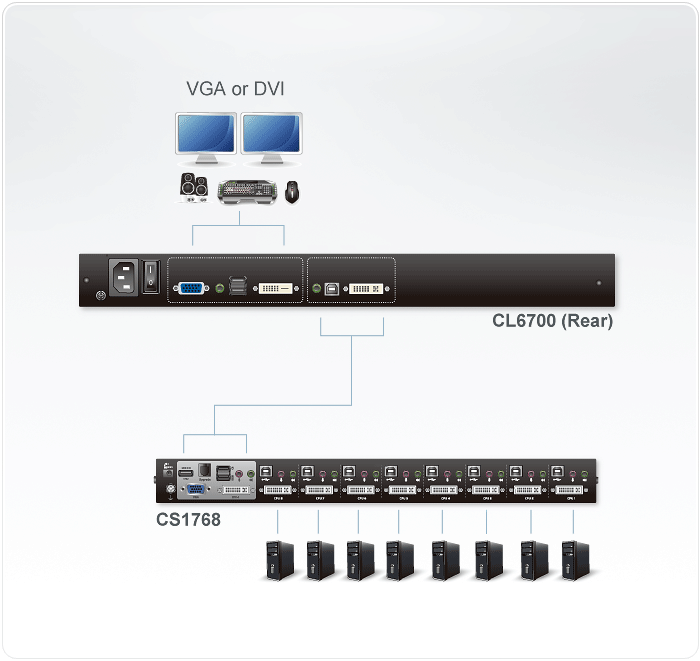 Integrated KVM console with a 19" DVI LCD monitor in a single rail housing with top and bottom clearance for smooth operation in a 1U high system rack
Standard rack mount kit included – optional Easy Rack Mounting (single person installation) rack mount kit available (requires separate purchase)
Supports an external console with USB / DVI / VGA connectors
Additional hot-pluggable USB mouse port on front panel (also functions as USB peripheral port)
Audio support (speakers)
Superior video quality – up to 1280 x 1024 @75 Hz; DDC, DDC2, DDC2B
Standard 105-key keyboard; Sun keyboard emulation
Multiplatform support – Windows, Linux, Mac, and Sun
Compatible with most ATEN DVI KVM Switches
Adjustable depth to fit within the rack
Firmware upgradeable
Console lock - enables the console drawer to remain securely locked away in position when not in use
DDC emulation - video settings of each computer are automatically adjusted for optimal output to the monitor
Keyboard Language support: English(US); English(UK); German;German(Swiss); French; Spanish; Traditional Chinese; Japanese; Korean;Swedish; Italian; Russian; Hungarian; Greek

More information about "Easy Rack Mounting"...
DVI LCD Console
Function
CL6700N
Computer Connections
Direct
1
Console Selection
Hotkey
Connectors
External Console Ports
2 x USB Type A Female
1 x DVI-D Female (White)
1 x HDB-15 Female (Blue)
1 x Mini Stereo Jack Female (Green)
KVM Ports
1 x USB Type B Female
1 x DVI-I Female (White)
1 x Mini Stereo Jack Female (Green)
External Mouse / Peripheral
1 x USB Type A Female
Firmware Upgrade
1 x RJ-11 Female
Power
1 x 3-prong AC Socket
Switches
Reset
1 x Semi-recessed Pushbutton
Power
1 x Rocker
Firmware Upgrade
1 x Slide
LCD Power
1 x Pushbutton
LCD Adjustment
4 x Pushbutton
LEDs
Power
1 x KVM Console (Dark Green)
1 x LCD (Orange)
Lock
1 x NumLock (Green)
1 x CapsLock (Green)
1 x ScrollLock (Green)
Video
Input Video Resolution
1280 x 1024@75Hz, DDC2B
Panel Spec
LCD Module
19" TFT-LCD
Resolution
1280 x 1024 @ 75 Hz
Pixel Pitch
0.294 mm x 0.294 mm
Response time
5 ms
Viewing Angle
170° (H), 160° (V)
Contrast Ratio
1000:1
Support Color
16.7M colors
Luminance
250 cd/m²
Emulation
Keyboard / Mouse
USB
Maximum Input Power Rating
100-240V AC; 50-60Hz; 1A
Power Consumption
120V/24.6W; 230V/25.4W
Environmental
Operating Temperature
0–50°C
Storage Temperature
-20–60°C
Humidity
0-80% RH, Non-condensing
Physical Properties
Housing
Metal
Weight
12.22 kg ( 26.92 lb )
Dimensions (L x W x H)
48.00 x 58.92 x 4.40 cm
(18.9 x 23.2 x 1.73 in.)
Note
For some of rack mount products, please note that the standard physical dimensions of WxDxH are expressed using a LxWxH format.