Video Extender
Discontinued
VE150
VE150 video extender comprises a local transmitting unit and a remote receiving unit which are connected by standard Cat 5e cables. The distance of both units can be extended up to 150m. It is ideal for factories and construction sites, or any location where the display may need to expose in a risky setting, but you want the system to be kept in a safe location.


Package Contents
1x Video Extender (Local Unit)
1x Video Extender (Remote Unit)
2x Power Adapters
1x VGA Cable (1.8m)
1x User Instructions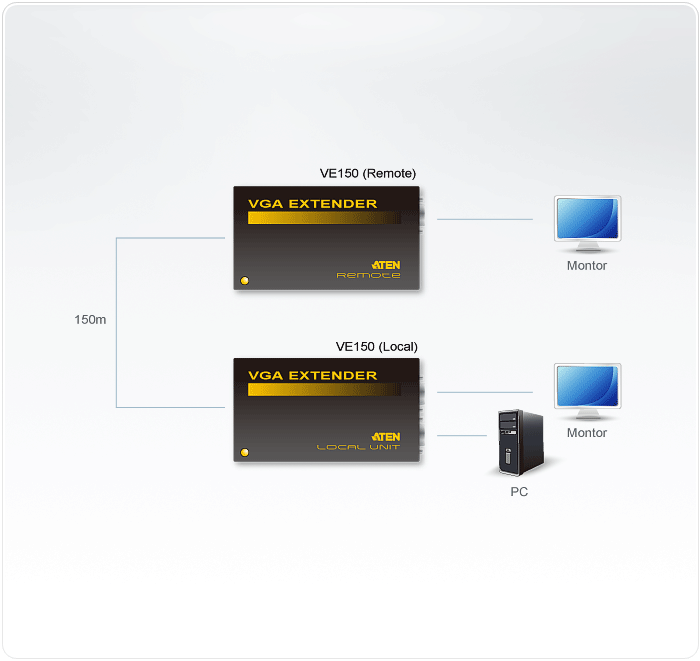 Uses Cat 5e cable to connect the local and remote units.
Supports a local and a remote display.
Transmission distance of up to 150m / 500.
16 position adjustable video gain control to compensate for distance.
Easy installation.
Multiplatform support: supports PC, Mac, Sun, and Linux, systems.
High video resolution - up to 1280 x 1024 at 150m (500').
Supports DDC for the local monitor.
Supports VGA, SVGA, XGA, SXGA and Multisync monitors.
OS Support: Windows 2000, Windows XP, Linux, Mac and Sun
Function

VE150L

VE150R

Computer Connection
1
N/A
Connectors
Console
Video
1 x HDB-15 Female (Blue)
Computer
Video
1 x HDB-15 Male (Blue)
N/A
Unit to Unit
1 x RJ-45 Female
Power
1 x DC Jack (Black)
LEDs
Power
1 (Orange)
Switches
Picture
Compensation
N/A
1 x 16 Position Switch
Video
1280 x 1024 @ 60Hz
Cable Length
Up to 150m (500')
Power Consumption
DC5.3V, 1.2W (Max.)
Environment
Operating Temp.
0 -50˚C
Storage Temp.
-20 -60˚C
Humidity
0-80% RH, Non-condensing
Physical Properties
Housing
Metal
Weight
0.25 kg
Dimensions (L x W x H)
11.90 x 8.60 x 2.30 cm
We are here to help! Please visit ATEN eService for technical assistance.