4-Port HDMI Switch
Discontinued
VS481
The VS481 4 Port HDMI Switch allows you to quickly and easily share your HDMI display device with 4 HDMI input sources.
The VS481 allows convenient switching between digital devices such as DVD players, Satellite receivers,Digital camcorder. The VS481 allows you to select the desired input source via a remote control unit and pushbuttons located on the switch.
20070117111411004.jpg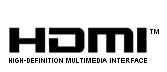 Package Contents
1x 4-Port HDMI Switch
1x HDMI Cable (1.8m)
1x IR Remote Control Unit
1x Power Adapter
1x User Manual
1x Quick Start Guide
Economical solution for home theater integration.
Easy switching among four digital video signals (e.g., DVD and Satellite receiver) by remote control or front panel pushbuttons.
LED indication of video source channels.
Supports high resolution: Supports HDTV resolution of 480p, 720p, 1080i and 1080p & Supports VGA, SVGA, SXGA (1280x1024) and UXGA (1600x1200).
Signaling rates up to 1.65 Gbits in support of 1080p display.
Deep color is 8-bit color for HDMI Format.
Long distance transmission - up to 20m (24 AWG) and 15m (28 AWG)
Plug-and-play. No software installation required. Installs in minutes.
HDCP 1.1 Compliant.
Remote Control or Front Panel pushbuttons source selection.