Compared with SOHO KVM, Enterprise KVM is mainly designed to provide larger PC management solutions for corporations, associations and other professional entities. This type of KVM is usually designed based on the 19" rack size, or for the 1U or 2U. Also, in order to control a number of PCs, a majority of the products are designed to include 4, 8, 16 or 32 CPU Ports. Many of the products also can be Cascaded or Daisy Chained to allow users the flexibility of expanding the number of PCs they control. Due to the demands of multiple port specification and Cascade or Daisy Chain expansion management, many Enterprise KVM products provide the On Screen Display (OSD) function to allow the users convenient switching and management, apart from the hotkey or button. Some of the switches, such as the ALTUSEN Series KVM switches, provide a detachable display, allowing easy management of the back wires of the KVM on the rack, and a more customized use of the front display and switch button.
Enterprise KVM that is currently available on the market can be divided into four types: Single Console KVM, Multi-Console KVM, LCD KVM, and IP Based KVM. The characteristics and explanations of these four types of Enterprise KVM are as follows:
1. Single Console KVM—Switch for one user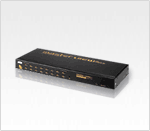 As indicated by its name, Single Console KVMs provide a single console that uses a KVM switch to control multiple PCs/servers. This type of KVM is appropriate for one user or for an environment where there is a small number of PCs. When purchasing this type of product, users can consider the PC platform or interface that they want to control in order to choose an appropriate product. Single Console KVMs that are currently found on the market mainly use the PS/2 interface (ATEN CS-9138/CS-138A). These entry-level enterprise KVMs have practical functions and flexibility for expansion, and are suitable for the average server room in a corporation. There is also another type of product that integrates three types of signals and audio into one connecting interface (ATEN CS-1004/CS-1008/CS-1016). In addition, apart from just supporting PS/2 product types, there are other products that support USB interface, especially as USB interface becomes increasing popular, more and more KVM switches support this interface. In fact, some KVMs only support the USB interface but are compatible with PC, Mac, Sun and Linux platforms. For example, ATEN's CS-1708/CS-1716 and Combo types of KVM that support both PS/2 and USB interfaces, such as ATEN's CS-1754/CS-1758. These types of products are specially designed with a connecting port on the KVM console, allowing users to choose different wires (PS/2 or USB) according to their needs, and to simultaneously control PS/2 or USB interface servers. As mentioned above, for easy control management, many Single Console KVM provide and OSD and can be cascaded or daisy chained for expansion. However, when purchasing, users should still be aware that currently some low-priced models on the market do not provide the functions mentioned above. For lower priced items, users should consider their expansion and management needs in order to choose the most appropriate product.
2. Multi-Console KVM—Multiple Switch
For users that need at least two people to simultaneously manage and control a server environment, they can choose a Multi-Console KVM. The majority of these products on the market allow one KVM to provide 2, 4 or 8 sets of consle controls. Depending on the interface type and ports, there are different models available. For PS/2 interface products, the most common configuration for the multi-console KVM provides 8 CPU ports and two console controls (ATEN CS-228). Apart from the PS/2 interface, there are products that support multi-platform interfaces. Often, these PC ports are designed to be integrated ports, and are ports that integrate keyboard, mouse, and display signals. The highly visible and most recognized is the RJ-45 interface. The RJ-45 interface allows users to extend the distance between the KVM console and PC/server using standard Cat 5 cable. This solution can effectively solve the distance restrictions of other port wires, and will be more convenient for cable management. Using ATEN's KM0432(4X32) /KM0216(2X16) as an example, it supports distances of up to 150 meters. Also, the RJ-45 interface occupies little space, making it possible for a 32 port KVM to fit in a 1U rack space. However, for such products, more support is needed for "expansion usage" and "management" due to the multiple to multiple specifications. Thus, Cascade or Daisy Chain structure and OSD function are important factors for users to consider when purchasing. Again, using the KM0432 as an example, it supports both Cascade and Daisy Chain and allows a maximum of 4096 PC connections. Thus, not only can the four users of the Master KVM control all the connected PCs, it can also allow each of the KM0432 under the Daisy Chain management to manage all the PCs connected to the KVM. Users can separate it into different sets for management, thus increasing management efficiency. In addition, in terms of OSD management, KM0432 /KM0216 has three levels of security management, classifying users into Super Administrator, Administrator and User. Similar OSD functions will help to increase management efficiency in a multiple user environment.
3. LCD KVM—Integrated Switch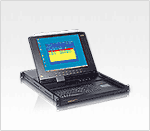 What is commonly known in the market as LCD KVM is in reality a product that integrates LCD display, keyboard, and mouse functions at the console with a KVM switch. This product concept was developed to fulfill the demands of the server room by combining KVM functions with specific design structure in order to solve the user's problem of having to additionally purchase display, keyboard, and mouse to establish a KVM console. Also, as a result of the console integrating with KVM to become 1U in size, the rack is able to save valuable space.
4. IP Based KVM
With the increasing popularity of the Internet, the evolution of KVM's development has initiated the birth of the IP Based KVM switch. The development of IP Based KVM switches not only allows integration with Internet specifications, but also allows the user to gain the benefits that the Internet has brought to KVM. The biggest advantage of IP Based KVM, that is different from other KVM, is in the user's physical location when using the console. The user is no longer limited to the general proximity of the KVM switch. The user only needs to connect the KVM switch to the LAN or Internet and the user can manage the PCs that are connected to the KVM CPU, regardless of where he or she is in the world. From a remote control interface point of view, using ATEN KN9116 as an example, the user can manage the PCs using an Internet Browser or Windows; JAVA customer interface management is also very convenient. The differences for these types of products on the market are not very big. The main difference is in the number of ports and the PC connecting interface. Factors to consider when purchasing IP based KVM switch include, similar to the KN9116, whether or not there are local console connecting ports available, security technology and the quality of the image resolution.