New Product Update
DVI LCD Console
The CL6700 DVI LCD Console is a KVM control unit featuring an integrated 19"DVI LCD panel, a full keyboard, and a touch pad in a 1U rack–mountable sliding housing, with audio support. The CL6700 serves as the front end sliding console for compatible DVI KVM switches. This means users who already have a compatible KVM switch can take advantage of the space saving and efficiency benefits of the sliding console module without having to purchase a KVM switch module.....more
HDMI Over Cat 5 Splitter
The ATEN VS1804T/VS1808T HDMI Over Cat 5 Splitter is the quickest and most efficient way to move HDMI multimedia content and HDCP information from input source to 4 displays. A one–to–many, point–to–multipoint system for transmission of high definition video and audio, the VS1804T/VS1808T transmits rich multimedia content in real time from HDMI source devices to HDMI display devices over Cat 5e cables. The VS1804T/VS1808T can support multiple displays when combined in an installation with ATEN's HDMI extender ....more
Corporate News
2012 Product Catalogs Released
The newly designed 2012 ATEN product catalogs have just been released. The new NRGence product line was added to ATEN catalog family, which now comprises 4 publications in total – ALTUSEN, ATEN, VanCryst and NRGence. The new editions include brand new perspectives on product applications, case studies, and more. Please view here. A CD containing the 4 catalogs will also be available soon, please check with your sales rep.
ATEN to participate in Cebit 2012 at Hannover, March 6–12
>> Visit our booth: Hall 11, Booth D01
ATEN will showcase the complete range of KVM and VanCryst™ Pro AV solutions at this year's Cebit show. There will be a live demonstration of the new 8–port DVI KVM Switch with Dual–View support, the ALTUSEN™ Over the NET™ Solution for remote server management and the CS533, a USB–to–Bluetooth converter. Visitors to the booth will have the opportunity to get hands–on experience with forthcoming products as well as gain in depth information on featured products. See the show info at https://www.cebit.de/home.
ATEN to launch brand new NRGence™ green energy product line at CeBIT Hannover 2012
This year, at CeBIT, ATEN will launch its brand new NRGence™ green energy product line, with the theme "Energy Intelligence for Data Centers". Various innovative sensor–enabled eco PDU solutions, designed to optimize data center energy usage, will be unveiled.
Worldwide ATEN Events Review
ATEN at Integrated Systems Europe (ISE) 2012
ATEN took part at the ISE trade show, held in Amsterdam from January 31 to February 2, and for the first time presented its VanCryst™ professional A/V product line at the show. ISE 2012 attracted more than 40,000 attendees over the three days. ATEN showcased VanCryst solutions including VS1504 / VS1508 Cat 5 A/V splitters, and the VM0808T 8x8 Cat 5 A/V Matrix Switch. In addition, the KN1000 KVM Over the NET™, a complete solution for the remote management of kiosk systems, was also presented. Please see photos from the show floor....more
ATEN Hosts Annual Eastern and Central Europe Distributor Conference to coincide with ISE show
ATEN hosted its annual Eastern and Central Europe Distributor Conference during the ISE show. The conference was held at the Novotel Hotel in Amsterdam on January 31st. The attendees were given an insight into ATEN's plans for the year including introductions to the company's product roadmap, channel programs and marketing plans. In addition, various regional case studies were presented at the one–day conference. The conference also served as a venue for ATEN to honor distributors whose performance exceeded expectations in 2011...more
Success Story & Case Studies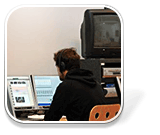 Post-Production House – CS1768, CE600
A post–production house requires KVM solutions to provide better working conditions. With the CS1768 DVI KVM Switch, engineers are able to operate from a console on the desktop and easily switch among multiple computers with a broad variety of signals. By using the CE600 DVI KVM extender, computers can be moved to a separate computer room creating a quiet and neatly arranged post–production workplace; allowing staff to work more efficiently and effectively ...more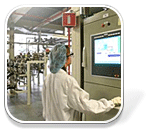 Semiconductor Foundry – KN4116/KN2116A, CS231
A leading semiconductor manufacturing company keeps on investing tremendous capital in building next generation fabs to sustain competitive advantages. To help engineers efficiently perform production equipment management, the company is looking for a solution to provide over-IP KVM management and console privilege control....more
Collateral update
Updated Product Series Guides/DM available
p.s. All collaterals source files are available from the Partner Center
ATEN KVM Knowledge provides with the latest KVM tech knowledge in an easy way for end customers. You are welcome to download and share the information with customers.
Visit us at following tradeshow:
Date: Mar 6 – Mar 10, 2012
Location: Hannover, Germany
ATEN Booth: Hall 11 D01
ATEN Product Showcase: Full range of ATEN products
Show Information: https://www.cebit.de/home
| | | |
| --- | --- | --- |
| | Worldwide Events | |
ATEN Launched the Academy Road Show 2012 across Central and Eastern Europe
ATEN conducted the Academy Road Show across Central and Eastern Europe countries in Feb. Targeting VAR and SI channel partners, the road show provides insights into ATEN business strategies and its latest product offerings ....more
Check out latest infomation :
Follow us online :