VGA/Audio/RS-232 Cat 5 Repeater with Dual Output (1600 x 1200@150m)
VB552
The VB552 VGA Over Cat 5 Repeater +Audio is an audio/video signal extension device which is compatible with ATEN Cat 5 Audio/Video splitters. The VB552 extends the audio/video transmission range an extra 500 feet (150m) over Cat 5e (or higher) cables. The use of an additional repeater means the audio/video signals can be transmitted over even longer distances, up to 1470 feet (450m).
Furthermore, for longer distance installations where video signals may degrade, the VB552 has adjustable video gain and compensation controls to provide the sharpest video quality possible. An IR remote control also provides picture control at the remote site.
Rack-mountable, with two RS-232 channels on the unit for selection, and support for high video resolutions, the VB552 is the perfect solution to extend the range of your A/V and serial transmissions in any installation environment requiring VESA FDMI mount standards.


Package Contents
1x VB552 VGA Over Cat 5 Repeater + Audio
1x Power Adapter
1x Infrared Remote Control Handset
1x Infrared Receiver
1x IR Receiver Holder
1x Rack Mount Kit
1x User Guide
Your cart
Shipping and discount codes are added at checkout.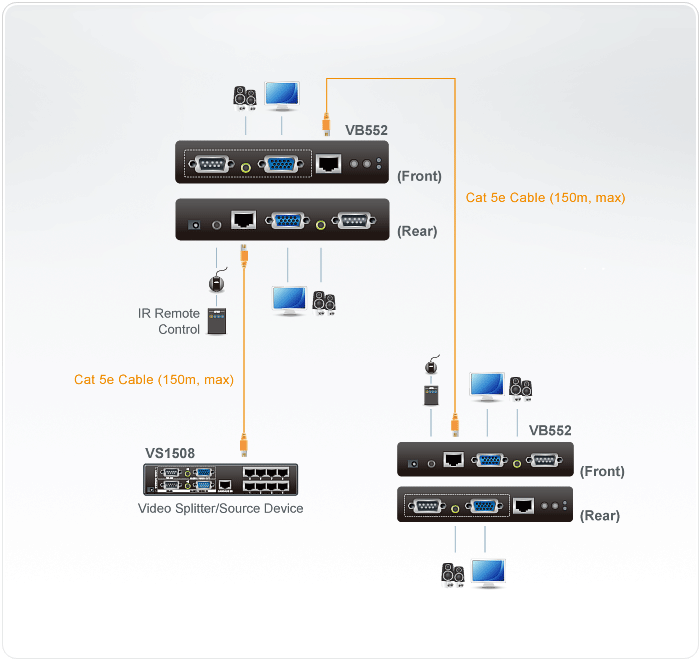 Uses Cat 5e cable to extend audio/video signal
Extends the transmission range an extra 150m
High-quality video - up to 1920x1200@60Hz at 100 feet (30m), 1600x1200@60Hz at 500 feet (150m), 1280x1024@60Hz at 650 feet (200m)
Audio and serial enabled
Two gain control modes for sharpest picture quality
Video gain and compensation adjustable via OSD
IR receiver for quick and easy video quality adjustment
IR remote control for screen on/off and video adjustment at remote site
Provides two RS-232 channels for selection
Follows VESA FDMI mount standard
Supports DDC for the local monitor
Supports VGA, SVGA, XGA, SXGA, UXGA and multisync monitors
For use in combination with VS1504/VS1508 Audio/ Video splitter
VGA Over Cat 5 Repeater + Audio
Video Output
Interfaces
2 x HDB-15 Female (Blue)
Impedance
75 Ώ
Max. Distance
1.8 m
Video
Max. Bandwidth
300 MHz
Max. Resolutions / Distance
Up to 1920 x 1200@60Hz@30m; 1600 x 1200@60Hz@150m
Audio Outputs
2 x Mini Stereo Jack Female (Green)
Control
RS-232
Connector: 2 x DB-9 Male (Black)
Power
Connectors
1 x DC Jack (Black)
Consumption
5.3 VDC, 4.77W
Environmental
Operating Temperature
0 - 50°C
Storage Temperature
-20 - 60°C
Humidity
0 - 80% RH, Non-Condensing
Physical Properties
Housing
Metal
Weight
0.35 kg ( 0.77 lb )
Dimensions (L x W x H)
13.90 x 8.80 x 2.86 cm
(5.47 x 3.46 x 1.13 in.)
Carton Lot
5 pcs