4-Port HDMI Video/Audio Splitter
VS184
Connects one HDMI A/V source to four HDMI displays at the same time
Cascadable to 3 levels - provides up to 8 HDMI signals
Signaling rates up to 2.25Gbits in support of 1080p display
Long distance transmission - 20 m (24 AWG)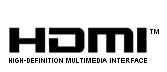 Updated Model
*May refer to related product with closest functionality.
The VS184 HDMI Splitter is the perfect solution for anyone who needs to send one source of digital high definition video to four displays at the same time. It supports all HDMI-enabled equipment, such as DVD players, satellite set-top boxes and all HDMI displays.
The VS184 HDMI Splitter is HDCP (High Bandwidth Digital Content Protection) compliant, making it effective for use with all HDMI displays in home theater applications, as well as in corporate, educational and commercial settings.
Package Contents
1x HD Video/Audio Splitter
1x HDMI Cable
1x Power Adapter
1x User Guide
Connects one HDMI A/V source to four HDMI displays at the same time
Supports high-resolution video - HDTV resolution of 480p, 720p, 1080i and 1080p (1920x1080); VGA, SVGA, SXGA, UXGA (1600x1200), WUXGA (1920x1200)
Cascade distance: Source to Device -1.8m, Device to Device-15m,Device to Display-20m
Supports 12-bit Deep Color for HDMI formats
Cascadable to 3 levels - provides up to 64 HDMI signals.
Long distance transmission - 65 feet (20 m) (24 AWG HDMI standard cable) and 50 feet (15 m) (28AWG HDMI standard cable)
DDC compatible
HDMI 1.3b compliant
HDCP 1.1 compliant
Signaling rates up to 2.25Gbits in support of 1080p display
All-metal casing
LED indication of display devices
Plug-and-play - no software installation required
Easy and affordable way to take your home theater system to the next level, or upgrade presentations, training, and video broadcasts in a corporate, educational, or commercial setting.