Channel 4: Slideshows
IP–Based KVM Solutions
ATEN IP–based KVM solutions allow operators to monitor and access multiple servers remotely. They also feature several outstanding functions including multiple session capability, advanced security, share mode.
---
Media Distribution Solution
The ATEN complete Media Distribution Solution is a cost–effective and efficient way to send A/V content over Cat 5e cable to multiple displays. It is ideal for any installation that requires multimedia content to be delivered to multiple destinations, such as classrooms, seminars...
---
SN3101 Serial Device Server
The ATEN SN3101 provides Ethernet connectivity for a wide variety of serial devices used in commercial applications. It offers various functions and benefits including a 3–in–1 serial port, multiple operating modes, a convenient management utility...
---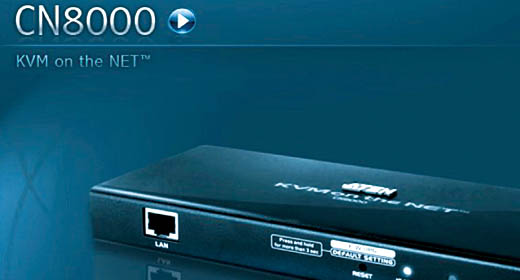 CN8000 KVM on the NET™
The ATEN CN8000 is an external Over IP solution. In addition to offering the powerful and convenient functions found in the CN6000, the CN8000 provides more advanced features, such as Virtual Media, PPP modem Dial–in, dual interfac...