1.8m High Speed HDMI Cable with Ethernet
2L-7D02H
HDMI (3D, Deep Color, 4K) and HDCP 2.2 compatible
Crystal-clear video up to 4K DCI (4096 x 2160 @ 30Hz), 4K UHD (3840 x 2160 @ 30Hz), and 1080p @ 60Hz signals
Gold-plated connectors for reliable transmissions
Available in lengths from 1.8 to 20 m
MSRP: Quote Upon Request
ATEN High Speed HDMI Cable with Ethernet provides an uncompressed, all-digital interface for both audio and video signals. Our cables infuse high-quality tinned copper wire to resist interference for improved image clarity. We offer HDMI cable at lengths of 1.8 to 20 meters with resolutions up to 4K DCI (4096 x 2160 @ 30Hz).
Crystal-clear video up to 4K DCI (4096 x 2160 @ 30Hz), 4K UHD (3840 x 2160 @ 30Hz), and 1080p @ 60Hz signals
HDMI Ethernet Channel functionality: additional dedicated data channel supports networking*
HDMI (3D, Deep Color, 4K) and HDCP 2.2 compatible
Gold-plated connectors for reliable transmissions
Available in lengths from 1.8 to 20 m
RoHS-compliant
Bend Radius 90° **

* Feature only available if linked devices are HDMI Ethernet Channel enabled
** Swings 100 times between angles of +/- 90 degrees, at a frequency of 13 times per minute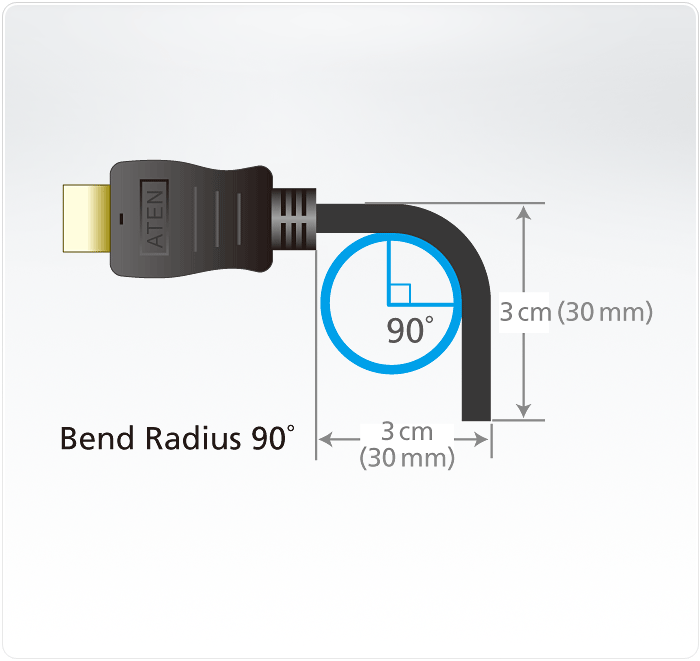 HDMI Cable
Video Resolution
Up to 4096X2160 @60Hz
Physical Properties
Cable Length
1.8m
Cable Color
Black
Cable Outer Dimension
6.0+-0.15mm
Conductor Gauge
30AWG
Conductor Material
Solid bare Copper
Connector Plating
Gold
Connector Type
HDMI (19pin) Male to Male
Cable Shield Type
Aluminum Foil
Cable Jacket Type
PVC
Environmental
Operating Temperature
80℃
Rating
UL VW-1 (Flame rate), CSA
Note
For some of rack mount products, please note that the standard physical dimensions of WxDxH are expressed using a LxWxH format.