e-Publication
Catalogs & Solution Books
All our product guides are available for fast download via our cloud services, or can be viewed using flash player.
Product Catalog - SOHO and SMB Solutions
ATEN offers a broad range of solutions to meet the needs of consumers, small office/home office (SOHO) users, and small and medium sized business (SMB) customer...
---
Product Catalog - Professional AV Solutions
The range of professional AV solutions gives you crystal clear images from all vantage points at home, in the office, and in the commercial, industrial, information, and entertainment fields.
---
Product Catalog - Enterprise Solutions
The enterprise-class KVM product line from ATEN, provides a range of advanced IT infrastructure management solutions that suit server room needs of most companies and data centers...
---
Product Catalog - NRGence Energy Intelligence Solutions
ATEN NRGence™ line is the latest evolution of energy intelligence - allowing you to upgrade your current IT resources quickly and cost-effectively…
---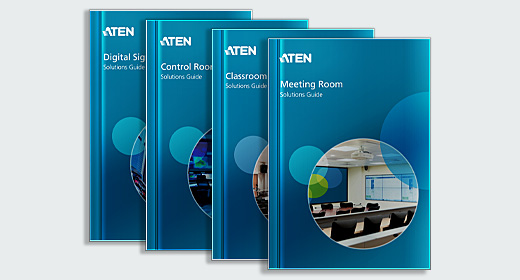 ---