ATEN Introduces Server-Based Software for Global AV Management
ATEN UnizonTM provides centralized and streamlined AV/IT management in real time


Taipei, Taiwan (June 24, 2019) – ATEN International, the leading provider of AV/IT connectivity and management solutions, today introduces ATEN Unizon™, a server-based software that provides AV/IT professionals the power to manage, monitor, and control ATEN Modular Matrix and Video Matrix solutions in real time. It has previously been complex and costly to maintain and manage devices located at different locations, especially across cities or even countries; with the release of this new centralized management software, users are now able to execute actions across multiple ATEN Ethernet-based AV devices simultaneously worldwide.
Once ATEN Unizon™ is installed on the client server, users can access the software remotely through mainstream web browsers. With an intuitive interface, ATEN Unizon™ allows AV/IT administrators to easily perform common AV tasks and even schedule upcoming tasks by batch using a grouping function. In case of abnormal events, ATEN Unizon™ will alert the users with a notification and allows them to review the system logs of devices monitored by the platform. The key features include:
Device Condition Monitoring
The software offers real-time monitoring and tracking of device condition for troubleshooting and maintenance.
● Condition Detection – Automatically detects device power status, temperature, fan, and connection status, helping you perform maintenance to avoid potential device failures.
● Alerts and Notifications – Instantly get notified of device abnormalities to perform troubleshooting actions and reduce down-time.
● System Log – Device usage and abnormal events are recorded so you can analyze past usability and plan future optimization.
Global Control and Scheduling
Via the user-friendly interface, users are able to perform and schedule routine tasks and initiate firmware upgrades across multiple devices simultaneously.
● Device Group Control – Execute actions instantly across multiple devices simultaneously, such as switching ports, profiles, resolutions, and video off.
● Event Scheduling – Schedule routine tasks for devices to carry out, such as setting different video contents to display at specific times of the day or week.
● Firmware Upgrade – Remotely update the firmware of multiple devices simultaneously directly through the platform, saving you time and maximizing productivity.
Access and Locations Management
Administrators are able to set user access levels and manage devices located at various locations.
● Device Location Tree – Easily navigate the location of devices on the 5-level location tree by drilling down by room, floor, building, or even city.
● Floor View – View devices across different buildings / floors grouped by device.
● Room View – View information for individual devices located in a single room.
● User Roles and Access Levels – Define User Roles and respective permission access levels on a room-by-room basis so that information can be accessed by authorized people only.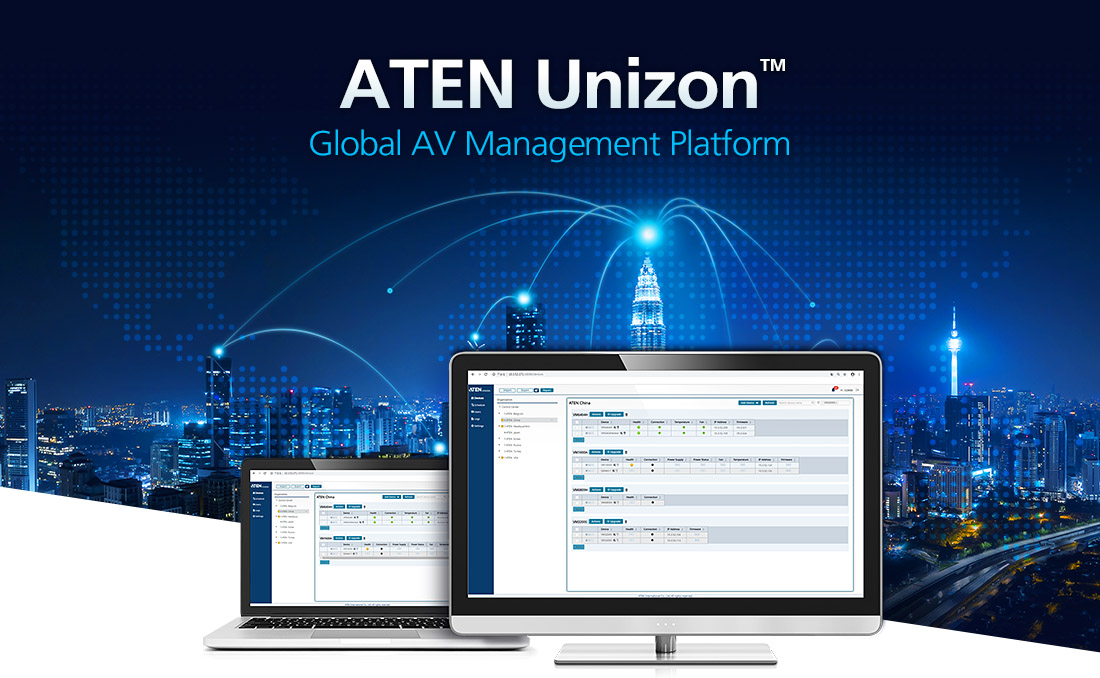 ATEN Unizon™ has an intuitive interface that allows AV/IT administrators to easily perform common AV tasks and even schedule upcoming tasks by batch using a grouping function


For more product information, please visit the ATEN Unizon™ product page.
---
About ATEN


ATEN International Co., Ltd. (TWSE: 6277), established in 1979, is the leading provider of IT connectivity and management solutions. Offering integrated KVM, Professional Audiovisual, and Intelligent Power solutions, ATEN products connect, manage, and optimize electronics in corporate, government, industrial, educational, and retail environments. ATEN has 570+ issued international patents and a global R&D team that produces a constant stream of innovative solutions, resulting in a comprehensive portfolio of products available worldwide.
Headquartered in Taiwan, ATEN International Co., Ltd. has grown to include subsidiaries and regional offices in China, Japan, Korea, Belgium, Australia, the U.S., the U.K., Russia, Turkey, Poland, India, and Romania – with R&D centers in Taiwan, China, and Canada.
For more information about ATEN, please visit www.aten.com.