Reaching New Heights: ATEN Management Platform Wins iF DESIGN Award 2023 for its Intuitive User Experience
Its intuitive GUI and customizable configuration design help users easily set up the system without writing code.
.
Taipei, Taiwan (April 19, 2023) – After being honored with receiving the Red Dot Award, ATEN International, the leading provider of KVM and AV/IT connectivity and management solutions, is proud to announce that the ATEN Management Platform - Control System management software stood out from almost 11,000 entries submitted from 56 countries and was awarded another international prestigious design award, the iF DESIGN Award 2023. It won in the discipline of User Experience (UX) in the Product UX category thanks to its intuitive graphical user interface (GUI), and customizable configuration design that provides users with an easy one-stop system setup experience that doesn't require any complex coding.
.
ATEN Management Platform - Control System works as an intelligent virtual manager and features perceptive and user-friendly UI with controllers using a modular design to adapt to various meeting spaces. Moreover, the wall-mount keypad can be assembled to meet different control needs. Suitable operation devices are developed for different space sizes, decorations, and scenarios, such as mobile control app and a panel dedicated to the meeting chairperson, and an in-wall keypad panel, which is customizable to the user's desired operating environment. ATEN Management Platform - Control System is designed to enable system integrators to quickly and efficiently complete projects while optimizing the overall meeting experience for end users without the need for technical expertise.
.
Since 1954, the iF DESIGN Award is one of the world's most prestigious design awards and recognizes outstanding achievements in design, has been recognized as an arbiter of quality for excellent design. This year, the award received over 10,000 entries from 52 countries, making it a highly competitive award. The award jury evaluated entries based on criteria such as innovation, functionality, and aesthetics. It honors design achievements in all disciplines: product, packaging, communication and service design, architecture and interior architecture as well as professional concept, user experience (UX) and user interface (UI).
.
"ATEN is elated to receive such honors from Red Dot Design award and iF DESIGN Award consecutively; these two awards are a proof to ATEN's commitment to innovation and excellence in design," said Kevin Chen, President of ATEN International. "With its intuitive and customizable UI interfaces, the ATEN Management Platform - Control System gained favor with the 133-member iF DESIGN Award jury. This acheivement has a profound meaning for us. ATEN is always committed to delivering cutting-edge solutions to bring the customer an ingenious user experience, to optimize their operations, and improve their productivity. With a strong focus on adding customer value with innovative technologies, we will continue to offer intuitive designs that fulfill their needs in the industry we focus on."
.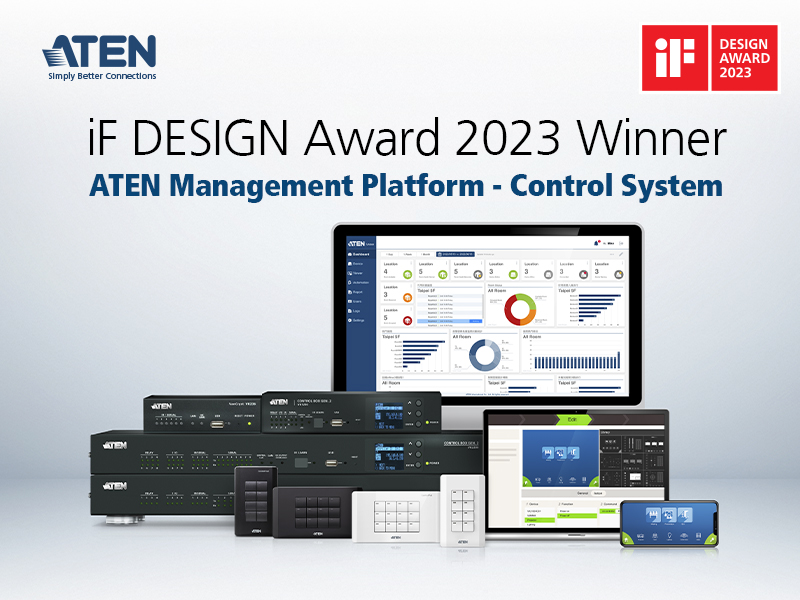 iF Design Award 2023 Winner- ATEN Management Platform - Control System
ATEN Management Platform is a configurator software (VK6000), a GUI-based management tool that provides the easiest way to set up the ATEN Control System, and is the product mix of the management platform, integrating hardware and software to optimize working efficiency for different scenarios. You can use the software to configure devices you want to control by utilizing our intuitive GUI, which helps you to set up the system in easy configuration steps – without writing code. Room devices generally have different connection interfaces and control protocols, which increase the complexity of the integration. Thus, ATEN Management Platform offers a wide range of hardware selection, and a variety of control interfaces. Its easy drag-and drop graphic and configuration design allows system integrators of all levels to meet users' needs and optimizes users' meeting experience. Working as an intelligent virtual manager, it monitors environments, controls devices, and enhances the user experience.
For more information about ATEN Management System - Control System, please visit the following link: https://www.aten.com/global/en/product-landing-page/control-system/series/overview/?utm_source=Press_Release&utm_medium=PR&utm_term=controlsystem_landingpage
---
About ATEN
ATEN International Co., Ltd. (TWSE: 6277), established in 1979, is the leading provider of KVM and AV/IT connectivity and management solutions. Offering integrated KVM, professional AV, SOHO, and intelligent power solutions, ATEN products connect, manage, and optimize AV/IT equipment in corporate, government, education, healthcare, manufacturing, broadcasting and media, and transportation environments. ATEN has 650+ issued international patents and a global R&D team that produces a constant stream of innovative solutions, resulting in a comprehensive portfolio of products available worldwide.
Headquartered in Taiwan, ATEN International Co., Ltd. has grown to include subsidiaries and regional offices in China, Japan, South Korea, Belgium, Australia, the U.S., the U.K., Russia, Turkey, Poland, India, Romania, South Africa, Mexico and Indonesia – with R&D centers in Taiwan, China, and Canada.
For more information about ATEN, please visit www.aten.com.
Press Contact
ATEN International Co., Ltd.
Irene Tsai/ Ivy Lee
TEL: +886-2-8692-6789 EXT. 1835/1867
FAX: +886-2-8692-6577
Email: pr@aten.com.tw