* The ATEN OnAir app must be connected to the ATEN StreamLive in order to livestream
Intuitive and Just So Easy to Use
The OnAir app is specifically designed for live video streamers who are struggling with complex streaming software – the interface is intuitive and simple, but with everything that you need. All essential elements for livestreaming are gathered in one place, ensuring your video production is fast and accurate.
1080P Streaming
1080P Recording
2-Platform Streaming
Project Management
8 Scene Presets
Scene Editor
Quick Switching
Free Built-in Templates
Video Mixer Page
Preview and Program
Program is the video feed that's being livestreamed. Preview is the video feed that's ready for livestreaming. Once you apply the transition, the Preview and Program will switch over, with the Preview becoming the Program and livestreaming out. This innovative design can prevent incorrect content from being accidentally aired.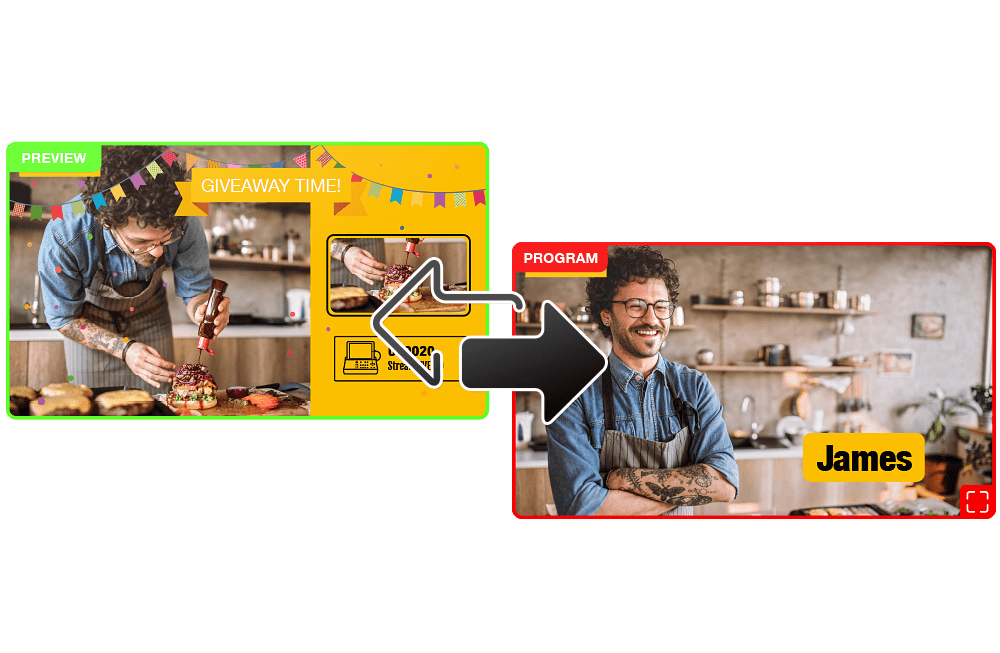 Transition Control
AUTO: Perfectly smooth transition with customized duration from 0.3 to 3.0 seconds.

CUT: Switch the video feed immediately.

Transition Bar: Control the transition speed manually.

Transition Effects: Amazing transitions with 8 different DVE effects for adding style to your program.
Full-Screen Program View
Enlarge the livestreaming out video feed to full-screen so you can check your content in detail.
Full-screen View
Storyboard-like Management
You can preset up to 8 scenes for a more detailed program planning process. Create your own storyboard and apply it to 8 scenes to make your show smooth and professional, just like a great TV program.
Project Management
Save your livestreaming scenarios with different scene presets and overlays into different projects for easier management and quicker access. You can also export a project and share it to other StreamLIVE™ systems.
Quick Mode
When Quick Mode is turned on, the PREVIEW is disabled. You can switch and stream out video feeds directly for fast switching.
Built-in Templates
If you don't know how to design fancy graphic overlays, worry no more! The OnAir App has built-in templates for you to easily elevate your livestreaming. Just create a new project and choose one that best matches your scenario and you are ready to roll.
Scene Edit Page
Scene editor lets you customize scenes with your creative ideas. You can create the layout either in single view, dual view, or with a still background image. Freely combine, crop, and scale video based on the camera angle to make outstanding PnP layouts. Move video to a desired position. Add transparent png images and backgrounds from your iPad's photo library, and create title overlays with professional-looking effects.
Custom Scene Layout
Graphic and Text Overlays
Audio Mixer Page
Multi-channel audio mixing with faders, meters, and balance for every input.
AFV
Audio Follows Video (AFV) functionality is crucial to ensure that audio switches with the video source when you need it. With AFV, you can set where you want the audio to come from and when, thus guaranteeing you can avoid audio mishaps and instead have a seamless pro finish.
Settings
With our comprehensive Settings tab, you can control scene transition times, check Streaming Resolution, optimize Streaming Quality, and more. With the Audio Delay function you can ensure that video and audio match up if you encounter issues with your video stream. Change your network settings, and even customize your Pause Screen.
2-Platform Streaming
StreamLIVE is capable of livestreaming to 2 platforms simultaneously. Reach a wider audience by livestreaming to multiple platforms and your audience can join you on their favorite platform with maximum flexibility.
1080P Recording
The OnAir App features a media recorder that can be used to record a program and save recordings directly to a connected external hard drive via USB. Record incredible files in H.264 encoded FHD quality that are perfect for any production and post-production workflow and can work instantly with the most popular software packages.
How to edit scene presets with the UC9020 StreamLIVE HD