What goes on in Control Rooms ?
CONNECT
Secure and Scalable Connectivity
Network installations can be configured to extend on proven connectivity with high security to accommodate large distances, high performance, and varying levels of system redundancy and resiliency.
COLLABORATE
Visualization and Information Integration
Display solutions extend from desktop screens for operators to large-size video walls for better collaboration, while multiple displays at workstations help operators visualize more information and improve operation.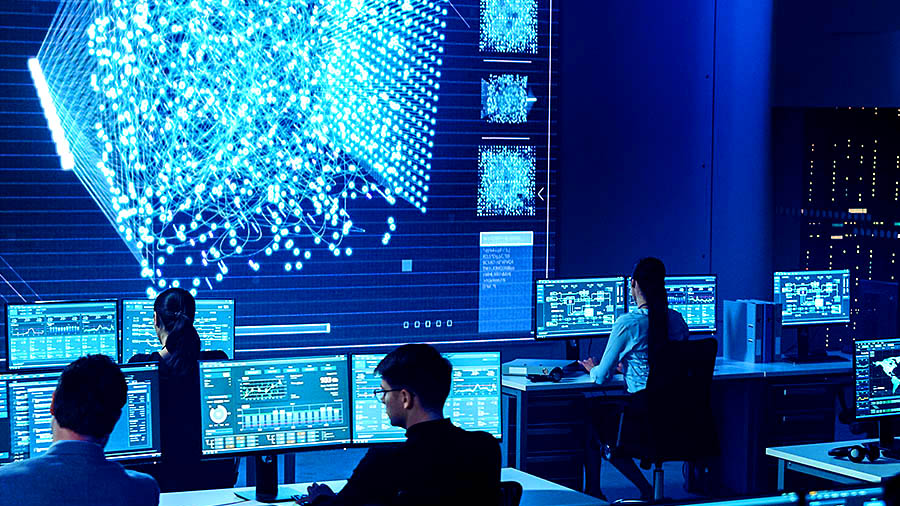 CONTROL
Intuitive and Remote Access
Access to remote sites and virtualization is vital to alleviating impact on productivity and operational efficiency in case of global pandemic situations. A more ergonomic design resulting in intuitive workflows and operator controls is the way forward in modern control room applications.
Why ATEN Control Room KVM?
Seamless Integration of AV and IT
ATEN is the expert in leveraging IT/IP technologies as a way of connecting A/V and server/device-room components, integrating information for collaboration, and facilitating responsive operations and crucial commands.
Visual Excellence
Our solutions deliver high-performance image quality to multiple display video walls for collaboration-heavy deployments, as well to desk console stations for mission-critical operations.
Flexible Deployment and Management
Our extensive control room product line provides flexible solutions that are future-proof, scalable, and implementable across industries, so you can easily find the solution that's just right for you in terms of both operation and device management.
Security and Reliability
ATEN solutions provide secure, reliable access to any system across multiple security domains for 24/7 operation; adjustable authority levels, encrypted communication and log ins; virtual media data encryption; also provides vital rapid failover/backup support for systems and operation, from local and offsite.
Scenario Setup
ATEN Control Room KVM solutions are designed to fulfill various control room requirements in diverse applications.
Comprehensive Control and Operation
The combination of ATEN KVM over-IP switches (
KN
/
CN
/
KL
series) and console stations (
KA82 series
) provides reliable remote access to mission-critical systems from any console station via existing network infrastructure, ideal for control room / Network Operation Center (NOC) operators to access remote servers from their workspace with improved user experience, workflow, and collaboration.
Flexible connection setups: one-to-one, one-to-many, many-to-one, many-to-many

Bus-sharing design (KN Series) to facilitate comprehensive server management

Panel Array mode for real-time monitoring of up to 64 PCs

Boundless Switching for control over 4 screens between 2 console stations
Centralized and Remote Management
The combination of Multi-View KVMP™ (
CM Series
) and KVM over IP Matrix System (
KE Series
) is intended to deliver combined video streams extended over the network and sent to the main surveillance control room for convenient monitoring with ultra low latency, and aimed to eliminate the compatibility limitations of surveillance systems as well as allow operators to have instant and secure local and remote access.
Multi-view console to control 4 video sources on one screen

Flexible display modes: PiP, PbP, and PoP

Boundless Switching for intuitive switching across windows or displays

Push & Pull to share content instantly to/from a single receiver or video wall
Secure Desktop Management with Data Protection
ATEN
Secure KVM Switches
are compliant with PSD PP v4.0 and PSS PP v3.0 and specifically designed to enforce stringent desktop security for deployment in any industry that needs to handle sensitive, confidential, or proprietary information, or implement multi-level security on separate networks.
PSD PP v4.0 & PSS PP v3.0 NIAP Common Criteria Compliant

Data channel isolation & unidirectional data flow

Always-on Chassis intrusion detection

Restricted USB connectivity

Non-reprogrammable firmware
Talk to Our Experts
If you would like to know more about ATEN's solutions, please complete the form below and an ATEN Expert will contact you.