1K-3KVA Professional Online UPS
Power More, Cover All
Small Server Room
Network Closet
Telecom System
1
True Double Conversion Output Power Factor = 1
Industry leading power output, more real power in watts by PF = 1.
2
Network & Power Surge Protections
Full time network & power surge protection with overvoltage cut-off protection and surge immunity.
3
Smart Energy Management
3 smart ways to manage your power while saving the planet and energy cost
1. Remote Management Software*
2. Programmable Smart Outlets
3. 96% Energy Saving ECO Mode
* Optional SNMP Card
Rotatable LCD for Flexible Setup
Rotatable LCD with immediate and detailed information for either tower or rack setup.
Multiple Communications
SNMP + USB + RS-232
Allows either USB or RS-232 communication ports to work with SNMP interface simultaneously. (Click here for optional SNMP module)
Smart Battery Charger Design
Adjusts charging voltage according to outside temperatures and extends the useful service life of batteries.
Hot Swappable Battery
As long as utility power is on, the connected equipment will keep running while replacing the battery. (Click here for optional External Battery Module)
Pure Sine Wave Output
Stable output current wave compatible with generators.
Zero Second Transfer Time
Uninterrupted system running during power failure by online UPS topology.
Emergency Power Off (EPO)
EPO connector at rear panel allows emergency UPS Power Off from a remote location.
UPS Close-up
(Example Model: OL1000LV)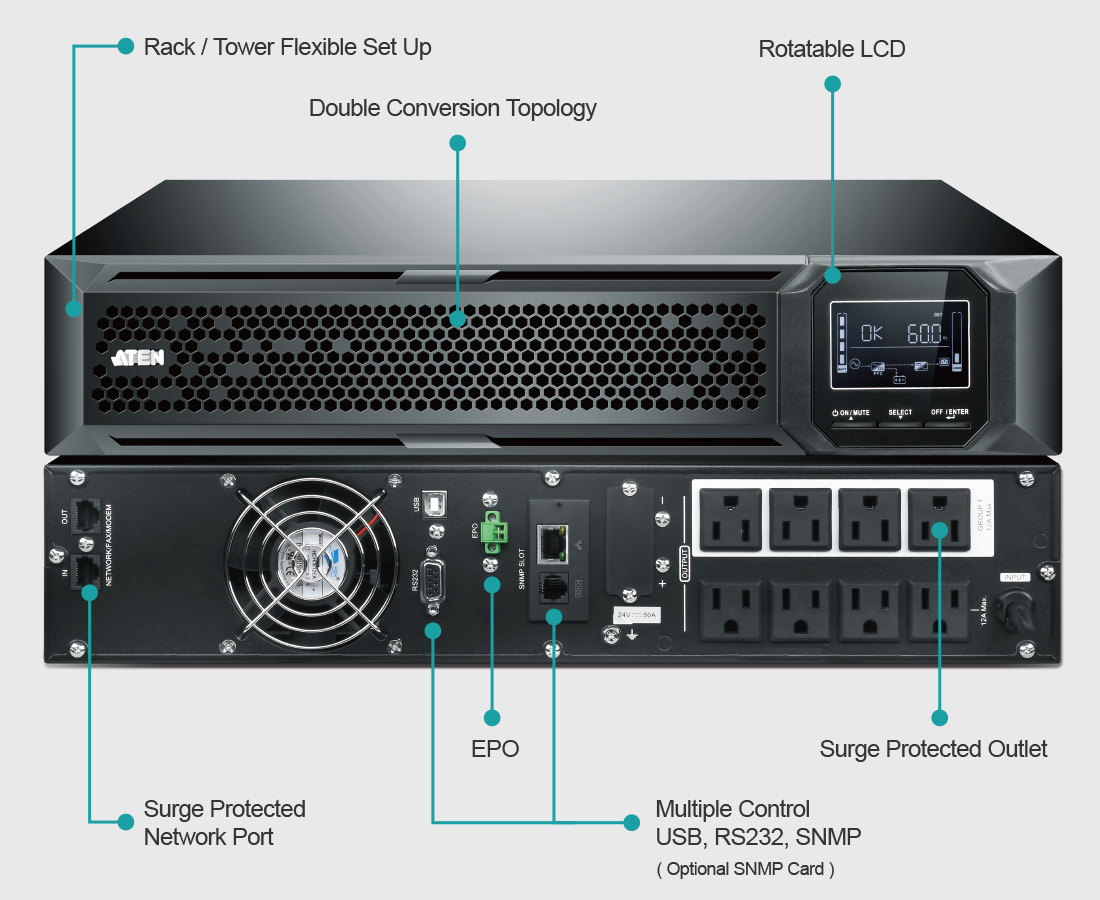 Featured Server Room Application
A total solution with remote access/control and real-time power management/protection to optimize your server room operations.
Comparison Table
Product Model

Output Watts

1000W

1500W

2000W

3000W

Input Voltage

LV: 100/110/115/120/127 VAC
HV: 220/230/240 VAC

UPS Topology

Double-Conversion

Outlet Type

LV: NEMA 5-15R x 8
HV: IEC 320 C13 x 8

LV: NEMA 5-15R x 8
HV: IEC 320 C13 x 8

LV: NEMA 5-20R x 8
HV: IEC 320 C13 x 8

LV: NEMA 5-20R x 8,
NEMA L5-30R x 1
HV: IEC 320 C13 x 8,
IEC 320 C19 x 1

Runtime

1000 W: 4.71
(900W: 5.64)

1500 W: 2.96
(1300W: 3.92)

2000 W: 2.97
(1800W: 3.57)

3000 W: 2.99
(2700W: 3.79)

On Battery Waveform

Sine Wave

Type

Tower / Rack (2U)
Runtime Chart & Table
Battery / Load (Watt)
100
200
300
400
500
600
700
800
900
1000
(Full Load)
Internal Battery
64.08
31.08
19.35
13.39
9.74
7.28
5.64
6.87
5.64
4.71
Internal Battery+1EBM
238.47
118.30
75.31
54.33
41.84
33.46
27.53
23.04
19.66
16.93
Internal Battery+2EBMs
424.88
216.74
139.66
101.09
77.89
62.33
51.48
43.38
37.38
32.59
Internal Battery+3EBMs
613.96
318.77
207.82
151.45
117.10
93.84
77.51
65.31
56.29
49.13
Internal Battery+4EBMs
804.03
422.29
277.75
203.70
158.19
127.12
105.15
88.66
76.42
66.70
* EBM: External Battery Module
OL1000 Runtime Chart
| Battery / Load (Watt) | 100 | 200 | 300 | 400 | 500 | 600 | 700 | 800 | 900 | 1000 |
| --- | --- | --- | --- | --- | --- | --- | --- | --- | --- | --- |
| Internal Battery | 100.90 | 50.25 | 32.22 | 23.08 | 17.48 | 13.74 | 11.04 | 9.01 | 7.44 | 6.24 |
| Internal Battery+1EBM | 364.67 | 188.95 | 122.52 | 88.81 | 68.66 | 55.55 | 46.28 | 39.39 | 34.03 | 29.75 |
| Internal Battery+2EBMs | 639.06 | 339.90 | 224.18 | 164.12 | 127.51 | 103.36 | 86.13 | 73.33 | 63.38 | 55.53 |
| Internal Battery+3EBMs | 915.52 | 493.86 | 329.41 | 243.22 | 190.15 | 154.80 | 129.36 | 110.31 | 95.42 | 83.61 |
| Internal Battery+4EBMs | 1192.71 | 648.99 | 436.10 | 324.00 | 254.59 | 208.11 | 174.47 | 149.14 | 129.23 | 113.37 |
Battery / Load (Watt)
1100
1200
1300
1400
1500
(Full Load)
Internal Battery
5.32
4.57
3.92
3.28
2.96
Internal Battery+1EBM
26.28
23.36
20.99
18.91
17.09
Internal Battery+2EBMs
49.21
43.95
39.72
36.07
32.88
Internal Battery+3EBMs
74.09
66.17
59.81
54.32
49.56
Internal Battery+4EBMs
100.54
89.83
81.20
73.75
67.28
* EBM: External Battery Module
OL1500 Runtime Chart

| Battery / Load (Watt) | 100 | 200 | 300 | 400 | 500 | 600 | 700 | 800 | 900 | 1000 |
| --- | --- | --- | --- | --- | --- | --- | --- | --- | --- | --- |
| Internal Battery | 135.41 | 68.66 | 44.38 | 32.24 | 24.93 | 19.98 | 16.42 | 13.69 | 11.53 | 9.86 |
| Internal Battery+1EBM | 478.08 | 254.60 | 167.52 | 122.62 | 95.59 | 77.58 | 64.90 | 55.37 | 47.96 | 42.27 |
| Internal Battery+2EBMs | 830.12 | 452.40 | 302.84 | 224.36 | 176.30 | 143.79 | 120.61 | 103.02 | 89.27 | 78.68 |
| Internal Battery+3EBMs | 1183.86 | 652.78 | 441.34 | 329.66 | 260.76 | 213.81 | 180.08 | 154.31 | 134.01 | 118.28 |
| Internal Battery+4EBMs | 1538.20 | 854.11 | 581.09 | 436.43 | 346.86 | 285.59 | 241.38 | 207.46 | 180.63 | 159.75 |
Battery / Load (Watt)
1100
1200
1300
1400
1500
1600
1700
1800
1900
2000
(Full Load)
Internal Battery
8.51
7.38
6.44
5.70
5.09
4.56
4.06
3.57
3.13
2.97
Internal Battery+1EBM
37.70
33.79
30.49
27.73
25.37
23.31
21.47
19.85
18.39
17.07
Internal Battery+2EBMs
70.18
62.95
56.87
51.84
47.56
43.85
40.59
37.72
35.15
32.85
Internal Battery+3EBMs
105.61
94.77
85.63
78.06
71.60
66.02
61.11
56.80
52.95
49.52
Internal Battery+4EBMs
142.86
128.37
116.10
105.89
97.17
89.63
82.97
77.11
71.89
67.22
* EBM: External Battery Module
OL2000 Runtime Chart
| Battery / Load (Watt) | 100 | 200 | 300 | 400 | 500 | 600 | 700 | 800 | 900 | 1000 |
| --- | --- | --- | --- | --- | --- | --- | --- | --- | --- | --- |
| Internal Battery | 202.74 | 109.79 | 72.72 | 53.53 | 41.62 | 33.79 | 28.23 | 24.05 | 20.80 | 18.18 |
| Internal Battery+1EBM | 692.37 | 394.23 | 268.75 | 200.84 | 157.37 | 128.35 | 107.75 | 92.35 | 80.55 | 71.14 |
| Internal Battery+2EBMs | 1189.56 | 688.96 | 476.51 | 360.37 | 285.22 | 234.45 | 198.02 | 170.49 | 149.18 | 132.05 |
| Internal Battery+3EBMs | 1688.01 | 985.63 | 686.76 | 522.83 | 416.33 | 344.07 | 291.97 | 252.40 | 221.62 | 196.76 |
| Internal Battery+4EBMs | 2186.92 | 1283.01 | 897.94 | 686.41 | 548.73 | 455.12 | 387.47 | 335.97 | 295.79 | 263.27 |
| Battery / Load (Watt) | 1100 | 1200 | 1300 | 1400 | 1500 | 1600 | 1700 | 1800 | 1900 | 2000 |
| --- | --- | --- | --- | --- | --- | --- | --- | --- | --- | --- |
| Internal Battery | 16.03 | 14.24 | 12.72 | 11.43 | 10.30 | 9.32 | 8.44 | 7.68 | 7.02 | 6.44 |
| Internal Battery+1EBM | 63.54 | 57.29 | 52.02 | 47.59 | 43.76 | 40.43 | 37.44 | 34.85 | 32.56 | 30.49 |
| Internal Battery+2EBMs | 118.10 | 106.56 | 96.81 | 88.58 | 81.44 | 75.25 | 69.71 | 64.90 | 60.68 | 56.88 |
| Internal Battery+3EBMs | 176.42 | 159.51 | 145.16 | 132.98 | 122.40 | 113.18 | 104.89 | 97.69 | 91.36 | 85.65 |
| Internal Battery+4EBMs | 236.58 | 214.32 | 195.38 | 179.27 | 165.22 | 152.96 | 141.91 | 132.28 | 123.79 | 116.12 |
Battery / Load (Watt)
2100
2200
2300
2400
2500
2600
2700
2800
2900
3000
(Full Load)
Internal Battery
5.93
5.49
5.10
4.75
4.43
4.10
3.79
3.47
3.19
2.99
Internal Battery+1EBM
28.62
26.94
25.44
24.06
22.79
21.62
20.54
19.52
18.58
17.69
Internal Battery+2EBMs
53.46
50.41
47.69
45.21
42.94
40.85
38.93
37.13
35.48
33.92
Internal Battery+3EBMs
80.50
75.90
71.80
68.06
64.64
61.50
58.62
55.92
53.45
51.12
Internal Battery+4EBMs
109.18
102.98
97.45
92.39
87.75
83.49
79.58
75.92
72.57
69.39
* EBM: External Battery Module
OL3000 Runtime Chart