Versatile Multi-in-One Presentation Solutions
Designed for Conference and Meeting Room Applications
Why the ATEN Presentation Switch Series?
Simplified AV Integration and Control
Multi-in-one solution in a compact enclosure to eliminate the need for numerous individual components and the compatibility challenges that accompany them.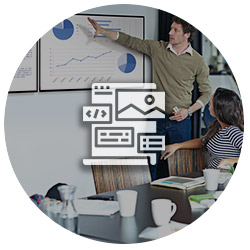 Intuitive OSD and Web GUI
A straightforward and accessible OSD and Web GUI to streamline operation for both local and remote participants.
Versatile Choices for Commercial and Educational Spaces
Tailor-made with unique features to satisfy a wide range of meeting space demands.
VP2730 7x3 Seamless Presentation Matrix Switch
VP1920 9x2 4K Presentation Matrix Switch
Collaborative Series
Collaborative Series
Collaborative presentation solutions facilitate distance-free content sharing with advanced audio.
Conference Room
Boardroom
Lecture Hall
VP2730
7 x 3 Seamless Presentation Matrix Switch with Scaler, Streaming, Audio Mixer and HDBaseT
Bi-directional Distance-free Streaming
Expedite collaboration with bi-directional content streaming. Go live to stream out HD video or stream in content from a remote site via an intuitive web GUI*.
*1. Up to five remote sites can connect; only one site can stream in at a time.
2. Streaming out requires a bandwidth of 2 MB or more
Ultra Seamless Switch with Scaler
Zero second switching without any latency while scaling for the best output resolution ensures extra smooth presentations.
Built-in Audio Mixer
Supports dynamic and condenser microphone input with selectable 48V Phantom Power and allows microphone input to be mixed with program audio.
Multi-view Flexibility
Display and switch simultaneously up to six sources in PiP (picture in picture), PbP (picture by picture), quad-view mode and more.
Moderator Mode
The meeting moderator can control any output display remotely and discretely without interrupting the meeting flow.
Conference Room Application
VP2730 enables simple content streaming in and out via Web GUI for small-scale meetings. It can also easily integrate with advanced AV conferencing systems for large-scale meetings
Core Series
Core Series
Multi-format core solutions deliver high-quality video and audio switching and conversion.
Meeting Room
Training Room
Classroom
VP1920
9 x 2 4K Presentation Matrix Switch
Multi-format AV Fast Switching
Fast switching among 6 HDMI and 3 combo inputs (HDMI/VGA, HDMI/DisplayPort, HDMI/Component/Composite) to 2 HDMI outputs and supports Coaxial, Toslink, Stereo audio outputs.
USB Control Routing for PCs and Touch Panels
USB ports integrate PC and touch panel controls with other devices into one system. Independent switching for USB peripheral ports and keyboard/mouse control focus.
Selectable Matrix, Mirror and PIP* Modes
Three different display modes meet the needs of various events or presentation styles.
Source Preview*
Quickly identify and switch to the target content you are looking for. No more guessing or memorizing which port connects to which content source.
*Support up to 1080p
Classroom Application
VP1920 consolidates multiple digital and analog sources and easily integrates with a digital podium and a touch panel to simplify the system build by reducing system device count.
Product Comparison
Model
VP1920
VP2730
Max Resolutions
HDMI/DP: Up to 4K@ 60Hz (4:2:0); 4K@30Hz (4:4:4)
VGA/Analog: Up to 1920 x 1200@60Hz
HDMI/DP: Up to 1080p@ 60Hz
VGA/Analog: Up to 1920 x 1200@ 60Hz
HDCP
HDCP 1.4
HDCP 1.4
Video Inputs
HDMI
6
5
DisplayPort
1
1
VGA
1
1
Component
1
N/A
Composite
1
N/A
Video Outputs
HDMI
2
2
HDBaseT
N/A
1
Audio Inputs
Stereo
1
1
Composite/Component
2
N/A
Balance
N/A
1
Microphone
N/A
1
Audio Outputs
Optical
1
1
Coaxial
1
1
Stereo
2
2
Features
Keyboard / Mouse PC Control
●
N/A
Streaming In
N/A
●
Streaming Out
N/A
●
Switching
N/A
Ultra Seamless Switching
Scaling
N/A
●
Preview
●
●
Picture in Picture (PIP)
●
●
Multiview (PbPQuad view)
N/A
●
Auto Switching
●
●
Audio embedding/de-embedding
●
●
Typical Applications
Presentation Meeting Room
Training Room
Interactive Learning Classroom
Conference Room
Boardroom
Lecture Hall